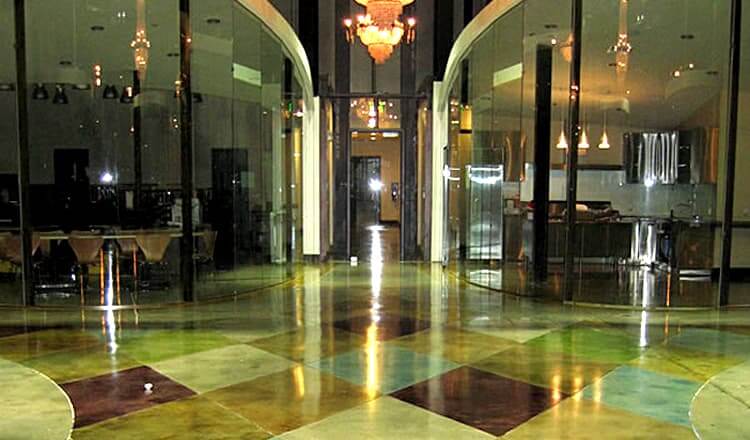 3100 Gravois Avenue
St. Louis, MO 63118
Office: (314) 865-2662
Fax: (314) 652-3542
Concrete Stain Application Services in St. Louis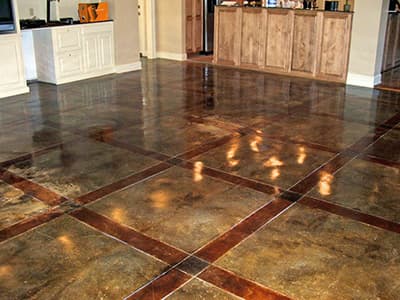 At Advanced Environmental Services, we offer concrete stain application services for commercial and industrial clients. We can offer this concrete staining service after floors have been grinded and polished to create embellishments and add an attractive finished look to any concrete flooring. Concrete stains are available to offer a variety of different finishes and our installers can utilize a combination of stains to create your desired look.
Using concrete stains over polished concrete floors will give floors the look of stone or marble at a fraction of the cost. To learn more about our concrete stain application services, please contact the flooring experts at Advanced Environmental Services.
Benefits of Concrete Stain Flooring
In general, we can apply our concrete stain products to new or old concrete floors following our concrete grinding and concrete polishing services. The concrete stain application process will give floors a professional and aesthetically appealing look. Because of the many benefits that concrete polishing and staining offer, they have become a popular flooring solution for a number of situations.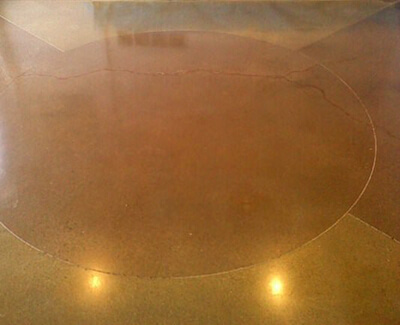 Benefits of applying a concrete stain to polished concrete floors include:
Durability: Concrete stains are extremely durable as they will not chip, fade, or peel. This flooring can be sealed with an epoxy or urethane coating to further preserve the finish.
Cost Effectiveness: Concrete stain application is an extremely affordable flooring solution especially for large areas including in industrial plants or large commercial buildings.
Attractive Finish: Concrete stain transforms an ordinary concrete slab into a luxurious, aesthetically appealing flooring surface that resembles much more expensive alternatives including marble or glazed stone.
Low Maintenance: Concrete stains create a smooth surface that is easy to clean and requires little maintenance or upkeep aside from occasional cleaning with a damp mop. Because concrete floors do not trap dust, mold, and other allergens, the use of concrete stains can improve indoor air quality in a commercial or industrial building.
Concrete Stain Uses
Concrete stain is an attractive, long term solution as a hard wearing flooring surface in industrial and commercial applications. This flooring is extremely durable and can turn any plain concrete flooring into an attractive, low maintenance surface. Concrete stain is available in a variety of color choices and patterns to meet any style or tastes. The following are some of the main applications and uses for our concrete stain products.
Manufacturing Plant Flooring
Warehouse Flooring
Distribution Plant Flooring
Laboratory Flooring
Factory Flooring
Aircraft Hangar Flooring
Retail Store, Mall, and Shopping Center Flooring
Commercial Kitchen and Restaurant Flooring
School and University Flooring
Showroom Flooring
Outdoor Spaces Including Pool Decks and Patios
Our Concrete Stain Application Services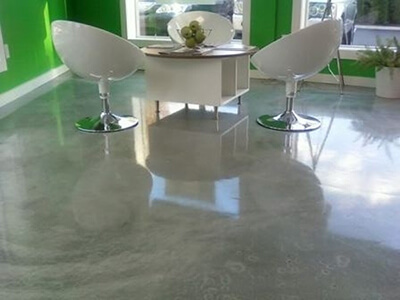 If you are interested in our concrete stain application services for your building, please feel free to contact us to learn more about the benefits of this flooring solution. Our flooring experts can help you understand your flooring options and can help you determine if concrete stain application is right for you.
At Advanced Environmental Services in St. Louis, our professionals are experienced in the concrete stain application process. This process begins with cleaning and preparing the concrete using special cleaning agents as well as shot blasting or concrete grinding when necessary. Next, a mixture of acid, metallic salts, and other materials is applied to the flooring surface. This causes a chemical reaction that changes the composition and color of the concrete. Our professionals can use a combination of concrete stain products to create your desired pattern or look.
---